Basic Difference between WSD and USD Method of Reinforced Concrete
Hello Everyone,Thank for your interest to read my article .Today I will share some Basic Differences of WSD(Working Stress Design )  Method and USD (Ultimate Stress Design)  Method of reinforced Concrete.
At First we need to know What is Exactly WSD and USD Method in reinforced Concrete  ?
You got the Basic Definition of Working Stress Design and Ultimate Stress Design and their Assumptions in my another articles .
WSD(Working Stress Design ) Definition and Assumption   and USD (Ultimate Stress Design)Defination and Assumption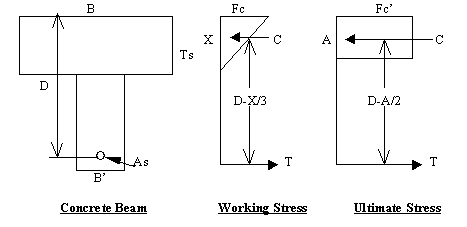 The Difference between Working Stress Design and Ultimate Stress Design  method of Reinforced Concrete Are ,,
| | |
| --- | --- |
| USD(Ultimate Stress Design)  Method | WSD(Working Stress Design) Method |
| Its primarily based on strength concept of Concrete | Its based on the linear theory or elastic theory . |
| Its Consider to Design  Critical Combination of load |  Its Consider to Design  carrying load |
| Its Designing to elastic behavior of materials . |  Its Designing to plastic behavior of materials |
| Materials strength to be used for member Design . |  Modular Ratio used for member Design |
| Stability of Structure is more then WSD | Stability of Structure is less then USD |
| Low Cost Design Method | High Cost Design Method |
If you have any Question please comments below ! If you like The  Comparison of Working Stress Design and Ultimate Stress Design method then please share it .Thanks